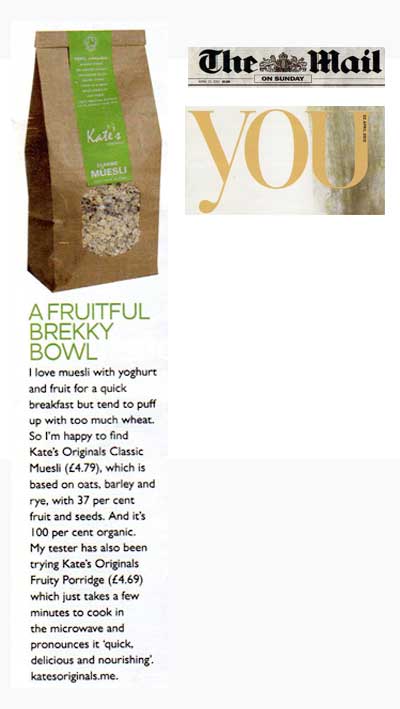 You (Mail on Sunday) Magazine love Kate's Classic Müesli and Fruity Porridge. They are thrilled to find a müesli which doesn't contain wheat  and is 100% organic and packed with 37% fruit and seeds.  The team also love Kate's Fruity Porridge pronouncing it 'quick, delicious and nourishing'.   Read the full article here.
To buy a bag of Kate's Originals Classic Müesli and Fruity Porridge today please see my stockist list to find your nearest store.
Kate's Originals is available now in all Wholefoods Stores nationwide including: High Street Kensington (020 7368 4500), Camden (020 7428 7575), Clapham (020 7585 1488), Stoke Newington (020 7254 2332) and Glasgow (0141 621 2700).
To find your nearest Wholefoods Market store please visit:
http://wholefoodsmarket.com/stores/unitedkingdom/
Visit Partridges grocery store at : www.partridges.co.uk
or to order online visit Partridges Online Store
The Organic Delivery Company: www.organicdeliverycompany.co.uk
You can contact Kate at : hello@katesoriginals.me